Local Community Information
Welcome to Guildford! As a resident you are more than just a student, you are part of a community. Whether on campus in your first year or out in the various wards of Guildford during your second and third year in a private rented house, this is your new home.
The union works very hard to help you make the most of your time here and provides information to help you become a good neighbour to your fellow Guildfordians!
Living Off-Campus?
If you're living off-campus, check out our Living Off-Campus guide which is packed with helpful info about moving into the local area and making a new home in your new house. In there, we cover all this and more:
Council Tax
Registering to vote
Support available to you off-campus
Bin collections
Useful Contacts
Accommodation Services
Estates and Facilities Management (Report a Fault)
Property Conditions Reporting
Surrey Student Pad
Community Reps
Community reps are students who dedicate their time to listening to residents in an allocated ward/area of Guildford. They represent the views of students at Residents' Association meetings, as well as frequently meeting with the VP Community, to discuss feedback and ideas for building a better community.
Community reps run an alert group for each area on Telegram and can be reached through this chat.
Tap the area in the list below to join.
Are you a commuter to the university? You also have a community rep! Join here.
Which area am I?
Not sure which area your home is covered by? Check this map out.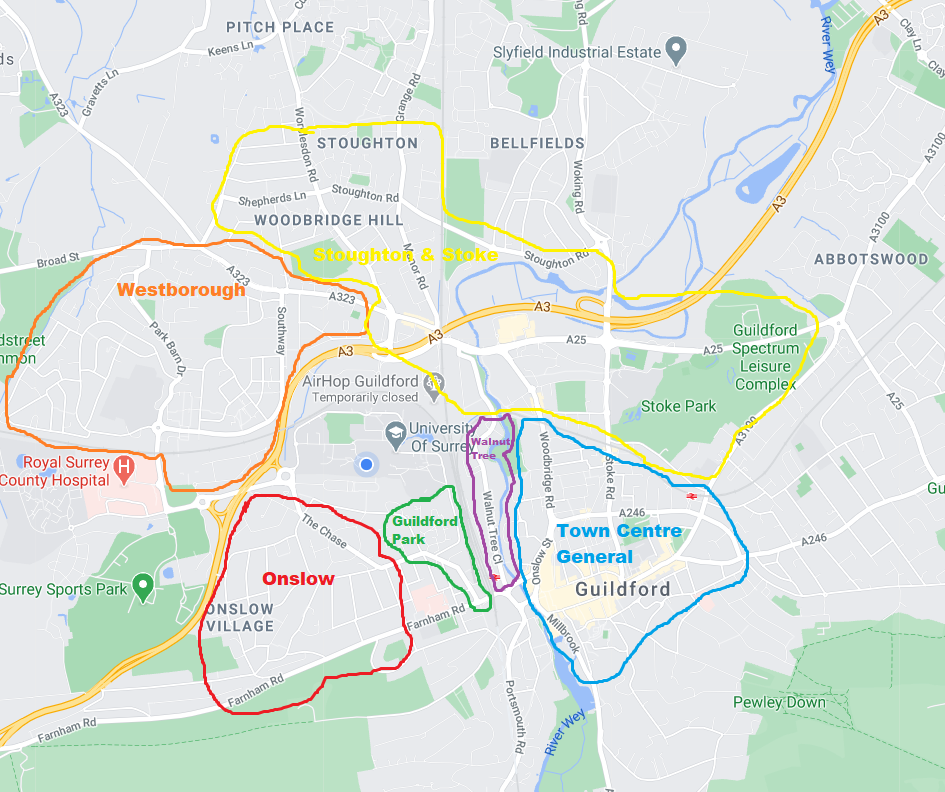 Citizenship Award
We want to encourage our students to be great ambassadors for the Guildford community, and we run a Citizenship Award to recognise students who make a difference in our local town. To find out more, head over to the Citizenship Award page.
Events in the Local Community
Each year Guildford hosts many community events that are free to attend and a great opportunity to get involved with while you spend time as a resident here.
Guildford Pancake Race
The Mascots Pancake Race is a charity race organised each year by Charlotteville Jubilee Trust. Held each April around Easter time (ish) on the historic cobbled High Street. Your very own Steve The Stag is the reigning champion too! Unfortunately, Steve won't be competing in 2022 as the event has been called off but do come and cheer him on as he vies to keep the crown and bragging rights firmly with Surrey Union in 2023!
Guildford Torch Light Procession
The Guildford Torch Light Procession takes place in November and you can join us walking from Campus all the way through the historic high street and onto the Guildford fireworks display. There is a huge fun fair at the display too!​​
Christmas Lights Switch On
Christmas Lights Switch On happens each November. It usually involves a candle lit procession, Steve the Stag meeting and greeting Guildfordians and of course thousands of people, music and fun.